Our Programmes
HEGL ORIGINAL RIGHT BRAIN DEVELOPMENT PROGRAMMES
HEGL ORIGINAL RIGHT BRAIN TRAINING PROGRAMMES
Educational research has always emphasized the golden period of a child during the infant and toddler age. It is a crucial period when a child builds his fundamental abilities. HEGL Heguru offers the programme that is best during this optimal period. Through a full-scale and holistic right brain training programme, we create an environment to fully unveil the potential of each and every student.

Age: From 6 months to 6 years old
Duration: 50 minutes
Number of lessons: 42 lessons per year
The objective of this programme focuses on tapping the potential of the right brain to further strengthen its amazing abilties while building bonds and improving communication skills between parents and children.
Highlights of the Heguru Infant & Toddler Programme:
With two Heguru teachers per class, lessons are fast-paced and with personalized guidance.
Effective learning environment to unleash the genius within your child.
Helps enlarge brain capacity of your child.
Encourages parent's participation to help children activate their potential abilities.
Enables both parents and children to grow together in a happy environment.
Sharing by instructors on various aspects of raising your child.
Provides substantial individual follow-ups(progress meeting) conducted on a one-to-one basis.
TIME TO EXPAND THE BRAIN CAPACITY OF CHILDREN AGE UP TO 6 YEARS OLD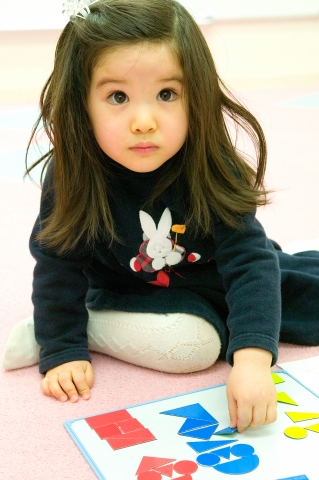 A well-known
prov
erb has it that the child is the father of the man.It is a fact that the environment of a child up to the age of six has a huge influence on the development of the brain.
At that time through receiving various stimuli,the brain capacity can be made bigger. This means that these abilities can be made into inherent ones and the child will be able to use them freely when he grows up.
These stimuli have to fulfil certain sine qua non conditions in order to be able to enlarge the brain capacity
HEGURU has more than 30 years of experience in educational guidance and has been able to find effective ways or promoting the development of the brain,testing them on a daily basis and has annually increased the precision of their development programmes.
PRESCHOOL I
Start of left-brain training to encourage independence
The time to consolidate what the children has learnt during their Infant & Toddler class and connecting it to their left brain is during the Preschool I stage, when they learn to be independent. Before this stage, infants attend classes together with their mothers, but at this Preschool I stage, they will attend class on their own. By looking after their own belongings and making concessions with their friends, they will activate independence while taking part in class. This is one good way to prepare them for life in the primary school. Lessons last 70 minutes and by using worksheets and handicrafts etc, the children's abilities will be developed three-dimensionally, using methods not offered during the Infant & Toddler programme.
HIGHLIGHTS OF THIS PROGRAMME:
1) Children starts attending class on their own thus communication with teacher is important.
2) Development of right brain and left brain abilities are promoted with worksheets and handicrafts etc.
3) Growth of the children's minds through listening to all kinds of fascinating stories which will resonate with them.
4) Independence and self-responsibility is emphasized and taught.
PRESCHOOL II
A programme designed to effect a superb balance between the right brain and the left brain
When the children enter Preschool II, people who know them will be amazed at their progress.
Lessons last 90 minutes, the same as in the primary Class, which helps their concentration powers flourish. Moreover, cultivation of the left brain will be at a higher level than in previous classes, so a foundation is built for the children to utilise when they become primary school pupils. This foundation is absolutely necessary to let their right brain bloom at primary school.
Rapid progress in the children's abilities can definitely be expected when they join this programme.

HIGHLIGHTS OF THIS PROGRAMME:
1)Enlarging the brain capacity and achieving the connection between the left brain and the right brain.
2) Nurturing high-speed processing skills.
3)Nurturing the power of expression and ability of comprehension.
4)Promoting cooperation through group interaction activities.
5) Further development of the left brain and enhancement of right brain power through the use of prepared worksheets.